The ITS Arizona Annual Conference is almost here!! Don't forget to register before September 1 to secure the early bird registration fees.
As part of Day 1 of the conference, Traffic Technology Services in cooperation with City of Mesa will host a Connected Vehicle live demonstration.
In 2016, Audi launched the first connected vehicle application through their connectivity service, Audi connect. Traffic Technology Services is the information service provider for the Audi system, providing technology that predicts traffic signal control operations. Participants will experience the first applications: Time-To-Green and Green Light Optimized Speed Advisory.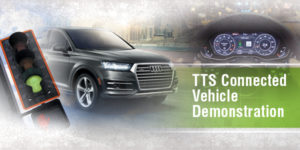 Participants will drive around the convention center to experience the connected vehicle applications developed by Volkswagen and Audi. ​The entire demonstration will take 15-20 minutes total to drive through signalized intersections, experience the system, and discuss the technology during the drive. ​Must have a valid driver's license and be over 25 years old to participate as a driver in the demonstration.
The demonstration is open to all conference attendees. Registration is required to secure a seat.
For more information and registering for the demonstration, please visit TTS website.