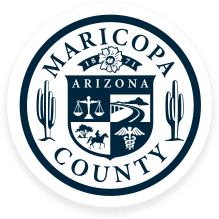 Opening Date: 07/19/21
Closing Date: 07/26/21
Department: Transportation
Job Type: Unclassified/Full-Time
Location: Phoenix, Arizona
Salary: $82,472.00 – $123,760.00 Annually
About the Position
Are you ready to join a team made up of innovative and driven engineers with an impressive range of project experience, achievements, and backgrounds? Bring your leadership and expertise to the Maricopa Department of Transportation, and apply to the Traffic Studies Branch Manager today!
You will provide supervision to the Traffic Studies Branch evaluating traffic engineering issues, and recommending methods for reducing accidents and traffic congestion. This is a great opportunity for a motivated individual to take on the challenges of managing and growing an engineering branch! Will you be the one who helps us deliver exceptional results?
Position Qualifications:
Education
Bachelor's degree in Civil Engineering or a closely related field
Experience
Six (6) years of traffic engineering experience including work experience in engineering project management
Other Requirements
Registration as a Professional Engineer (PE) by the Arizona State Board of Technical Registration, OR by the technical board of another state, with the ability to obtain Arizona Registration within six (6) months of employment
Must possess a valid Arizona State Drivers License by the time of hire
Preferred Candidate has
Experience with the practical application of the guidelines of the Manual on Uniform Traffic Control Devices (MUTCD)
Experience with the application of the traffic engineering principles of the Policy of Geometric Design of Highways and Streets by the American Association of State Highway and Transportation Officials (AASHTO)
ATSSA Traffic Control Supervisor, and Level III Signs & Markings certifications
Experience with the application of traffic engineering principles as it relates to roadside design, low volume road design, pedestrian, and bicycle facilities
Please click here for more information and to apply for this opportunity.