ITS ARIZONA 27TH ANNUAL CONFERENCE – ERA OF SMART MOBILITY
This year's conference will be on Wednesday, October 14, 2020.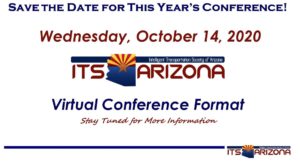 Our conference committee is hard at work on developing the virtual conference program and schedule; more details will be shared in the next month. The registration fees for the meeting will be significantly reduced to ensure that this meeting is accessible to as many of our members as possible.
Call for Presentations
This one-day conference will have a limited number of presentations. If you are interested in presenting your work to other transportation professionals, please submit a 200-word abstract using the form below. The deadline for abstract submission is Friday, August 21, 2020.
You are encouraged to submit your abstract as early as possible. Presentations will be selected by the Conference Planning Committee based upon relevance of presentation to the conference theme with consideration given to maintaining a diverse range of presentation subjects. Any questions regarding the conference can be submitted to info@itsaz.org.
ITS Arizona is looking for potential presenters who may have a project or program either in the planning stages or currently deployed which falls within one of the following categories:
ITS Performance Measures
Innovative Communications
Innovative Funding Sources
Improving Highway Safety with ITS
Traffic Management Centers & Improving Operations
Expanded ITS Applications
ITS Public Outreach and Communication
Freeway and Arterial ITS
Rural ITS
ITS for ADA Accomodations
Other presentations will be considered, however priority will be given to abstracts which fall within one of the ten categories listed above.