2021 Conference – Reimagining ITS
This year, ITS Arizona will hold an in-person annual conference:
When | September 29–30, 2021 (Wednesday and Thursday)
Where | Mesa Convention Center, Building C, 263 North Center Street, Mesa, AZ
This year's conference theme is Reimagining ITS — a testament to our endurance of the pandemic and its lasting impacts on how we operate as a society. The 2-day conference starts with our signature half-day workshop and the reception that regularly attracted more than 200 attendees. This year's Day One Workshop features presentations and a panel discussion by public officials, technologists, and industry experts to share the accelerated trends in applying Artificial Intelligence in ITS and transportation in general.
Day Two, regularly attended by 300-400 of transportation professionals, opens with a keynote address and an opening ceremony that kicks off the technical sessions and the exhibit, including a memorial of the colleagues we lost during the pandemic. Don't miss the lunch award presentation recognizing the best practices of ITS projects in Arizona and the inauguration of the incoming ITS Arizona leadership team. Enjoy the impressive technical sessions and updates on the latest ITS technologies and services offered by our sponsors. We look forward to seeing you there!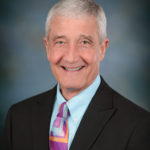 We are excited to announce that our Keynote Speaker on Day Two of the Conference will be Jack Sellers, Chair of the Maricopa County Board of Supervisors. In addition to being a former transportation engineer, Mr. Sellers is a former Vice Mayor for the City of Chandler and former Chair of the Arizona State Transportation Board, among many other high-ranking positions, and has been a strong advocate for intelligent infrastructure development throughout his career.
---
Early Registration is Open!
Individual Registration
Sponsors & Exhibitors
Sponsors & Exhibitors registration is also open. Check out all the great sponsor opportunities and reserve your booth! This year Platinum, Gold, Silver and Bronze sponsors will have first choice from among the premium booth locations, before they are opened up to other sponsors and exhibitors. So, please register early, and as a sponsor, to have priority in this year's booth selection process!
The booth layout below shows booth numbers and which booths are already taken with a check mark. Each booth includes a draped table, 2 chairs, wastebasket and one ID sign. Wi-Fi access is available to all conference attendees on the premises during the conference. Full details about the move-in process and setup times are available in the Exhibitor Service Kit.
Thank you to the following sponsors and exhibitors that have already signed up for this year's conference! (as of 7/12/21)
Platinum

Gold

Silver

Bronze

Registration Gift Sponsor

Lunch Sponsors

Exhibitors
---
Call for Award Nominations and Student Papers
---
Call for Abstracts
The Call for Abstracts is over! The committee is evaluating the submissions and will notify presenters of selected abstracts in the coming weeks. Thank you to all who submitted, we had a near record number of submissions across a wide array of topics!
---