S

ummary of the Conferen

ce
The ITS Arizona 28th Annual Conference was held on Wednesday, September 29th and Thursday, September 30th, 2021 at the Mesa Convention Center. The conference began with an excellent workshop on the timely topic of Artificial Intelligence in Transportation. Attendees came away with a better understanding of what AI is and isn't and a realistic expectation of the promise it holds for continued advancements in ITS. After the workshop, a reception was held with a refreshingly creative guided painting activity where the artistic side of our membership shined.
The second day of the conference began with a great keynote address by Jack Sellers, Chair of the Maricopa County Board of Supervisors. During the breakout sessions, a total of 29 presentations and a panel discussion were available to attendees, along with several opportunities to visit the booths of our great sponsors and exhibitors and learn more about their latest products and services. During lunch, the Past Presidents' Awards were presented, highlighting the excellent work being done in the region. In addition, the ITS Arizona Member of the Year was announced, the Graduate Student Paper Award was presented and the results of the elections for the 2022 ITS Arizona Board of Directors were announced. A quiet moment was also reserved to honor our friends and colleagues that we have lost during the pandemic.
Following on the success of the 2021 conference, we again had excellent attendance by both individuals and sponsors/exhibitors, and we look forward to continuing the trend at next year's ITS Arizona 29th Annual Conference.
Final Conference Program | Download Here
---
Day 1 Workshop on Artificial Intelligence (AI) In Transportation
Workshop Moderator: Dr. Larry Head, University of Arizona
FEATURE PRESENTATIONS
1. How the Future of Transportation Leverages Artificial Intelligence
• Vinay Thadani, Business Development Manager, Analog Devices
• John Estrada, Founding Partner, Dering & Estrada
2. Automated Vehicles – Arizona's Pursuit of Safety
• Jack Weast, Fellow, Intel & Vice President of Automated Vehicles Standards,
Mobileye
• Marisa Paula Walker, SVP, Infrastructure & Executive Director, Institute of
Automated Mobility, Arizona Commerce Authority
3. Bigger Data – Applications Enabled by Connected Vehicles, Crowd-sourced Data, and AI
• Michael L. Pack, Director, CATT Laboratory
4. Machine Vision, AI & Movement Intelligence
• Mark Pittman, Founder & Chief Executive Officer, Blyncsy
PANEL DISCUSSION
• Karla Petty, FHWA Arizona Division Administrator
• Marisa Paula Walker, SVP, Infrastructure & Executive Director, Institute of Automated Mobility, Arizona Commerce Authority
• Brent Cain, TSMO Division Director, ADOT
• Eric Anderson, Executive Director, Maricopa Association of Governments
• Jennifer Toth, Director, Maricopa County Department of Transportation
• Jack Weast, Fellow, Intel & Vice President of Automated Vehicles Standards, Mobileye
• Vinay Thadani, Business Development Manager, Analog Devices
• John Estrada, Founding Partner, Dering & Estrada
• Michael L. Pack, Director, CATT Laboratory
• Mark Pittman, Founder & Chief Executive Officer, Blyncsy
Day 2 Presentations
SESSION 1A—REGIONAL PARTNERSHIPS (CRISMON / SIRRINE ROOM): Moderator – Aaron Pinkerton, Town of Gilbert
– Update on the Development of MAG's New Regional Transportation Plan
Audra Koester Thomas, Maricopa Association of Governments
– MAG's Traffic Signal Optimization Program – Transforming Project Performance Evaluation
Eric Nava, Maricopa Association of Governments and Felipe Ladrón de Guevara, Kittelson & Associates
– AZTech ITS Specialist & Traffic Signal Technician Task Force: Regional Collaboration in Traffic Signal Operations
Simon Ramos, City of Phoenix, Stin Weber, City of Glendale and April Wire, Maricopa County DOT
SESSION 1B—UNIVERSITY RESEARCH (POMEROY ROOM): Moderator – Diahn Swartz, Town of Marana
– Towards Robust and Socially-Adept Autonomous Vehicles Through Vehicle Trajectory Sensing for Safety Assessment:
Yezhou Yang, Arizona State University
– Spatiotemporal Patterns of Online Food Delivery Services Before the COVID-19 Pandemic
Steven Gehrke, Northern Arizona University and Michael Huff, Northern Arizona University
– Applying Innovative Research to Real-World Traffic Problems
Abolfazl Karimpour, University of Arizona and Yao-Jan Wu, University of Arizona
SESSION 1C—BIG DATA (ROBSON ROOM):Moderator – Jeff King, FHWA
– MAG's Experience Using Connected Vehicle Data for ITS Applications
Jeff Jenq, Maricopa Association of Governments, and Yongzhao Peng, Maricopa Association of Governments
– How the RTC of Southern Nevada Uses Vision Data to Manage its Roads
Brandon Long, Nexar
– A Systems Approach to More Resilient Data Management
Arun Dawit UrbanLogiq
SESSION 2A—TRANSIT (CRISMON / SIRRINE ROOM): Moderator – Chris Lemka, City of Peoria
– TRIPS – Traffic Responsive Intelligent Priority System: Cheap, Easy, and Effective
Blake Hansen, Olsson and David Hoelzel, Olsson
– A Streetcar Named Tempe: The Valley's First Modern Streetcar
Tony Belleau, City of Tempe
– Valley Metro Rail: Improving and Extending the System
Marty Ziech, Valley Metro
SESSION 2B—MACHINE LEARNING IN ITS (POMEROY ROOM): Moderator – Bruce Littleton, City of Phoenix
– Innovative Approaches for Region-Wide Traffic Data Collection and Use in the PAG Region
Xiaofeng Li, University of Arizona and Hyunsoo Noh, Pima Association of Governments
– A Billion Points of Data: How Cities Can Best Leverage Big Data – Case Study (Texas & North Carolina
Paul-Matthew Zamsky, Waycare
– How AI is Changing the Entire Traffic Landscape
Jatish Patel, Flowlabs
SESSION 2C—TRANSPORTATION PLANNING (ROBSON ROOM): Moderator – Dana Alvidrez, City of Chandler
– Identifying and Quantifying the Causes of Congestion
Rick Ayers, University of Maryland CATT Laboratory
– Lessons Learned from Emerging Technology Piloting Efforts for Regional Transportation Planning
Shuyao Hong, Maricopa Association of Governments
– High Fidelity Anonymized GPS and LBS Data to Better Understand Trip and Travel Patterns
Rick Ayers, University of Maryland CATT Laboratory
SESSION 3A—HIGHWAY OPERATIONS (CRISMON / SIRRINE ROOM): Moderator – Mark Brown, Maricopa County
– ADOT's Wrong Way Vehicle Detection Program
Susan Anderson, Arizona DOT and David Locher, Arizona DOT
– Emerging Freight ITS and CAV Deployments in the Southwestern US
Mark Jensen, Cambridge Systematics
– Adapting to a Pandemic: Ramp Metering with Changing Traffic Patterns
Steven Cheshko, Arizona DOT and Adrian Cottam, University of Arizona
SESSION 3B—SIGNAL OPERATIONS (POMEROY ROOM): Moderator – Tricia Boyer, City of Mesa
– Adaptive Signal Control Technology: Better Traffic Flow, Better Communities – Results from a Pilot Project in the Las Vegas Valley
John Peñuelas, Jr, RTC of Southern Nevada
– Exploring Factors Affecting Drivers' Violation Behavior at Signalized Intersections
Diahn Swartz, Town of Marana and Abolfazl Karimpour, University of Arizona
– Alternative Signal Timing Techniques in the City of Peoria
Chris Lemka, City of Peoria
SESSION 3C—OPERATIONAL DASHBOARDS (ROBSON ROOM) Moderator – Allan Galicia, City of Glendale
– Signal Analytics Using Trajectory Data
Rick Ayers, University of Maryland CATT Laboratory
– Applying Technology for Proactive Transportation Operations and Management
Scott Carlson, Iteris
– Maryland Real-Time Multi-Modal Common Operational Picture
Rick Ayers, University of Maryland CATT Laboratory
---
2021 Board of Directors Election Results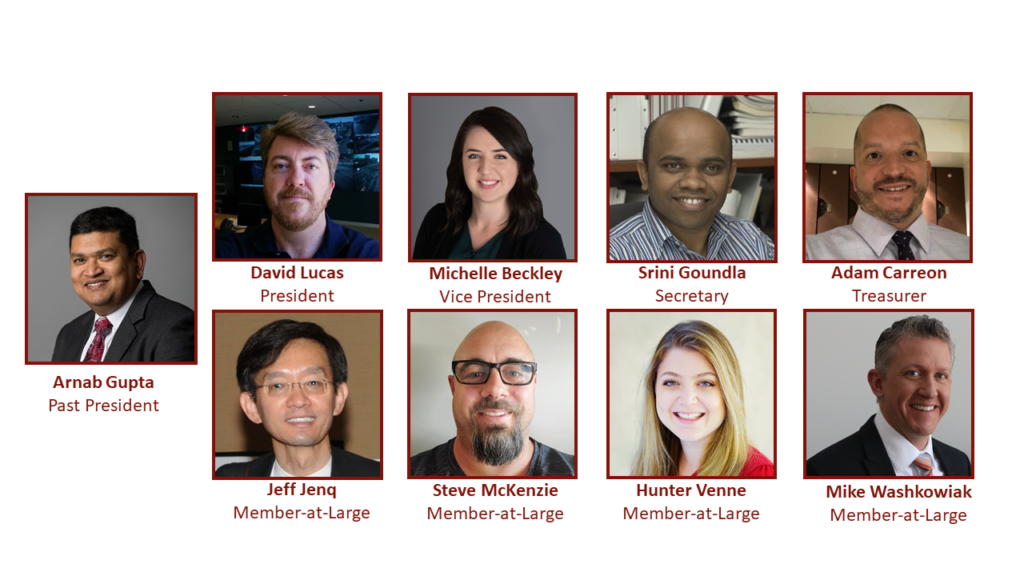 ---
Past Presidents' Award Winners
Best Use of an ITS Industry Product or Service
Yuma County, Rick Engineering, and Solar Traffic Controls
Dynamic Advanced Intersection Warning System
Best ITS Planning Project
Town of Gilbert and Kimley Horn
Gilbert Transportation Systems Management & Operations Plan
Best ITS Implementation Project
ADOT and IBI Group
AZ 511
---
Graduate Student Paper Competition Winner
Xiaobo Ma, University of Arizona
"Application of Transfer Learning Technique for Proactive Ramp Metering Performance Assessment"
---
WE THANK ALL THE SPONSORS AND EXHIBITORS: