S

ummary of the Conferen

ce
The ITS Arizona 29th Annual Conference was held on Wednesday, October 19th and Thursday, October 20th, 2022 at the Mesa Convention Center. The conference began with an excellent workshop on the timely topic of Artificial Intelligence in Transportation. Attendees came away with a better understanding of what AI is and isn't and a realistic expectation of the promise it holds for continued advancements in ITS.  After the workshop, a reception was held with a refreshingly creative guided painting activity where the artistic side of our membership shined.
The second day of the conference began with a great keynote address by Jack Sellers, Chair of the Maricopa County Board of Supervisors. During the breakout sessions, a total of 29 presentations and a panel discussion were available to attendees, along with several opportunities to visit the booths of our great sponsors and exhibitors and learn more about their latest products and services. During lunch, the Past Presidents' Awards were presented, highlighting the excellent work being done in the region.  In addition, the ITS Arizona Member of the Year was announced, the Graduate Student Paper Award was presented and the results of the elections for the 2022 ITS Arizona Board of Directors were announced.  A quiet moment was also reserved to honor our friends and colleagues that we have lost during the pandemic.  
Following on the success of the 2021 conference, we again had excellent attendance by both individuals and sponsors/exhibitors, and we look forward to continuing the trend at next year's ITS Arizona 29th Annual Conference.
Final Conference Program | Download Here
---
Day 1 Workshop: ITS Solutions Beyond Infrastructure
Workshop Moderator: Marisa P. Walker, Institute of Automated Mobility and Arizona Commerce Authority
Opening Remarks: Karla Petty, FHWA Arizona Division Administrator
FEATURE PRESENTATIONS
1. Cloud Technology in Transit Signal Priority and Emergency Vehicle Preemption, Timothy Menard, CEO & Founder, LYT
2. Disruptive Innovation: Safety and Efficiency Solutions Right Under Our Nose, Steve Voit, Transportation Domain Business Development, Verizon
3. Digital Infrastructure: Signals Edition, Gary Carlin, Director of Public Sector Business Development, INRIX
4. V2X Solutions Over 10,000 Miles, Kiel Ova, Head of Government Affairs and Partnerships, Traffic Technology Services, Inc.
PANEL DISCUSSION
• Karla Petty, FHWA Arizona Division Administrator
• Dr. Larry Head, Professor of Systems and Industrial Engineering, University of Arizona
• John Roberts, Systems Technology Engineering Manager, Arizona Department of Transportation
• David Lucas, Traffic Technology Branch Manager, Maricopa County
• Dr. Wang Zhang, Transportation Data Program Manager, Maricopa Association of Governments
• Mark Jensen, Director, Technology Planning Global Practice, Transpo Group
• Timothy Menard, CEO, LYT
• Steve Voit, Transportation Domain Business Development, Verizon
• Michael L. Pack, Director, CATT Laboratory
• Mark Pittman, Founder & Chief Executive Officer, Blyncsy
Day 2 Presentations
SESSION 1A—WORKZONE ITS APPLICATIONS (CRISMON / SIRRINE ROOM): Moderator – Subhankar Dey
– Beyond Rush Hour: Using Ramp Metering and Event-Based Data for Incident Response
John Roberts, ADOT and Adrian Cottan, University of Arizona
– Smartwork Zones Applications
Carlos Duran, AECOM
– Saving lives at the work zone: connecting work zones and crews with road users via a shared road management platform and GPS partners
Courtney Reynolds, One.network
SESSION 1B—TRANSPORTATION PLANNING (POMEROY/ ROBSON ROOM): Moderator – Alisa Doll
– The Safe System Approach in Arizona
Kerry Wilcoxon, ADOT
– Where do we start? A city's perspective of SS4A – Comprehensive Safety action Plan, supplemental and implementation grants
MariaAngelica Deeb, City of Mesa
– The Importance of Influencing Human Behavior to Reduce Wrong Way Driving
Andrew Markese, Image Sensing Systems
SESSION 1C—REGIONAL PARTNERSHIPS (CONFERENCE THEATER): Moderator – Dave Bruggeman
– Regional Work Zone Data Sharing
Alexander Lemka, MCDOT
– AZTech Regional Initiatives & Programs
David Lucas, MCDOT, April Wire, MCDOT, and Mark Brown, MCDOT
– Improving Cross-Agency Communication and Re-routing for Large Planned Events
Michael Villafuerte, Rekor Systems
SESSION 2A—MULTI-MODAL ITS APPLICATIONS (CRISMON / SIRRINE ROOM): Moderator – Kiran Guntupalli
– Autonomous Vehicle Shuttle Pilot: What We Experienced and What We Learned
Shuyao Hong, MAG and Sanjay Paul, HDR
– Evaluating Sidewalk Autonomous Delivery Robot Interactions with Pedestrians and Bicyclists on Shared-use Transportation Facilities
Steven Gehrke, Northern Arizona University
– Understanding Perceptions of Vulnerable Roadway Users on Autonomous Vehicles
Md Tawhidur Rahman, AECOM
SESSION 2B—OPERATIONS (POMEROY/ ROBSON ROOM): Moderator – Alyssa Ryan
– State of the System
Arash Cyrus, ADOT
– Dealing With Difficult Wireless Paths in Obstructed Corridors and Best practices for successful implementations
Frank Neuperger, Simrex Corporation
– Video-as-a-sensor Technology Drives Safer Roadways
Zareh Megerdoonian, Bosch Security and
Safety Systems
SESSION 2C—ADAPTIVE SIGNAL CONTROL TECHNOLOGY (CONFERENCE THEATER): Moderator – Kim Carroll
– Tired of Hitting Every Red Light? Adaptive Traffic Signals in Casa Grande, AZ
Duane Eitel, City of Casa Grande and Scott Clark, Clark Transportation Solutions
– Using Artificial Intelligence in Adaptive Signal Control
Justin Effinger, NoTraffic and Simon Ramos, City of Phoenix
– The Municipal Politics to Funding ITS and Adaptive Systems
Chris Lemka, City of Peoria
SESSION 3A—CONNECTED VEHICLES (CRISMON / SIRRINE ROOM): Moderator – Chris Lemka
– Cellular V2X and Virtual RSU Pilot
Joseph Jones, ADOT and Jeff Jenq, MAG
– Virtual DMS – MAG Regional Innovation Pilot
Carter Liu, Kimley-Horn and Jeff Jenq, MAG
– Optimizing Safety & Efficiency with Roadside Units (RSUs)
Donald Wang, Western Systems and Joe Marioni, Western Systems
SESSION 3B—SIGNAL TIMING (POMEROY/ ROBSON ROOM): Moderator – Duane Eitel
– Holistic Approach to Technology Evaluation: A Case Study with Automated Signal Timing Generator
Omar Aboulaban, MAG and Sanjay Paul, HDR
– Technologies and Tricks: Taking HAWKS to the Next Stage
Simon Ramos, City of Phoenix and Sanjay Paul, HDR
– US-71 Traffic Responsive Pilot Program
Blake Hansen, Olsson
SESSION 3C—BIG DATA (CONFERENCE THEATER) Moderator – Yogesh Mantri
– Using Real-time Data for I-10 Broadway Curve MOT
Michael Washkowiak, Iteris
– VDOT's Data Driven Congestion-Prediction VSL System
Deanna Haase, Kimley-Horn and Matthew Tinney, Kimley-Horn
– Integrated Data Driven Congestion Identification with Queuing-based Volume Delay Function
Mohammad Abbasi, Arizona State University
---
2023 Board of Directors Election Results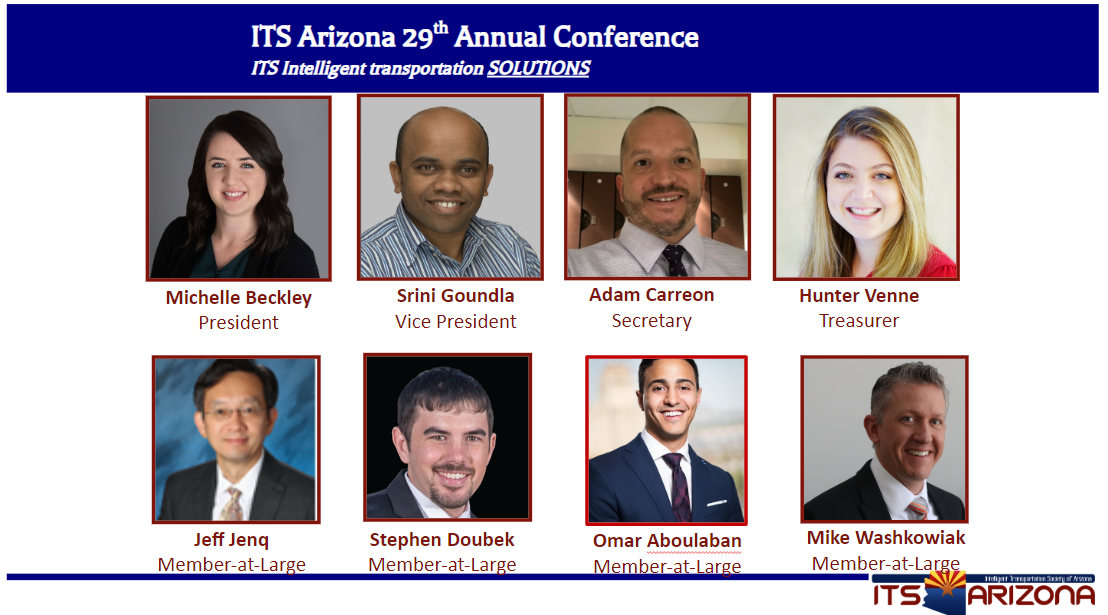 ---
Past Presidents' Award Winners
Best Use of an ITS Industry Product or Service
MAG, City of Phoenix, Rick Engineering
Test of Non-Intrusive Emerging Technologies for Pedestrian and Bicyclist Detection and Counts
Best ITS Planning Project
MAG and HDR
Autonomous Vehicle Shuttle Pilot Deployment and Lessons Learned
Best ITS Implementation Project
MAG and HDR
Automated Signal Timing Plan Generator for SR 347
Member of the Year Award
Deanne Haase, Kimley Horn
 

---
Graduate Student Paper Competition Winner
Xi Zhang, University of Arizona
"Safety Performance Evaluation of Flashing Yellow Arrow: Time-of-Day vs 24-hr"
---
WE THANK ALL THE SPONSORS AND EXHIBITORS: