Arizona Sate University (ASU) is hosting Transportation Seminar on Autonomous Vehicles – Industry and Technology Overview sponsored by ITS Arizona.
The seminar will be at the College Avenue Commons (660 S College Ave Tempe AZ 85281) on Wednesday, October 9, 2019 from 1:30 to 2:45 PM. The ASU Transportation Seminar is an interdisciplinary seminar series organized by the ASU Transportation Campaign and TOMNET, a USDOT-Sponsored Tier 1 University Transportation Center led by ASU.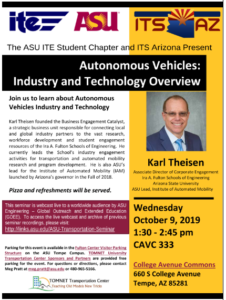 Karl Theisen, Assistant Director of Corporate Engagement, Ira A. Fulton School of Engineering, ASU will lead the seminar. Karl founded the Business Engagement Catalyst, a strategic business unit responsible for connecting local and global industry partners to the vast research, workforce development and student engagement resources of the Ira A. Fulton Schools of Engineering. He currently leads the School's industry engagement activities for transportation and automated mobility research and program development. He is also ASU's lead for the Institute of Automated Mobility launched by Arizona's governor in the Fall of 2018.
The seminar is webcast live to a worldwide audience by ASU Engineering – Global OUtreach and Extended Education. To access the webcast pease visit: http://links.asu.edu/ASU-Transportation-Seminar-live.