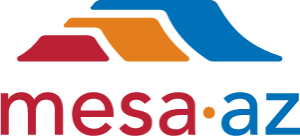 Opening Date: 09/22/2023
Department: Transportation
Job Type: Full-Time
Location: Mesa, Arizona
Salary: $84,195.07 – $124,603.65 Annually
About the Position
Under general supervision, the Senior Transportation Engineer performs responsible, professional engineering work within the Traffic Engineering section of the Transportation Department. This class performs related work as required.
Employees in this class perform the full range of professional engineering assignments within the Transportation Department. Work involves the application of skilled engineering knowledge to a variety of difficult traffic engineering problems, as well as frequent professional contacts with the public. In addition, a Senior Transportation Engineer may direct and review the work performed by lower level professional, paraprofessional, and technical staff. Assignments are broad in scope and require the use of independent, professional judgment and initiative in making technical decisions of considerable difficulty. A Senior Transportation Engineer is responsible for conducting all types of traffic engineering studies, traffic signal timing and traffic management, Intelligent Transportation Systems (ITS) design, ITS configuration and maintenance, creating policies and design standards, reviewing roadway design plans, reviewing commercial development and subdivision plans, preparing or checking signing and striping plans for the City street system, and acting as the City's technical expert in these areas. Work is reviewed by the City Traffic Engineer, Supervising Engineer, or ITS Engineer through conferences, inspections, and results achieved. This class is distinguished from the Transportation Engineer class by the required registration as a Civil Engineer, and by performing more difficult and varied professional engineering work assignments with minimal direct supervision. City employees may progress to this class by noncompetitive promotion upon meeting the specific criteria-based promotion requirements of performance and professional registration. This class is FLSA exempt-professional
Graduation from an accredited college or university with a Bachelor's Degree in Traffic Engineering, Civil Engineering, or related field.
At least three years of municipal traffic or transportation engineering experience preferred. Two years of supervisory experience preferred. Experience using AutoCAD is highly desirable
Registration as a Professional Civil Engineer. Registration as a Professional Civil Engineer in the State of Arizona is required within six months of hire
Must possess a valid Class D Arizona Driver's License by hire or promotion date
Due to the safety and/or security sensitive nature of this classification, individuals shall be subject to pre-employment or pre-placement alcohol, drug and/or controlled substance testing as outlined in City policy and procedures
Please click here for more information and to apply for this opportunity.