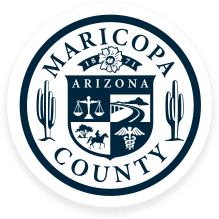 Closing Date: 11/10/2022
Department: Transportation
Job Type: Unclassified/Full-Time
Location: Phoenix, Arizona
Salary: $65,312 – 92,352 annually
About the Position
The Traffic Signal Operations Engineer works in a state-of-the-art Traffic Management Center under the Traffic Operations Branch to improve traffic flow by using cutting-edge Intelligent Transportation Systems. In this role, high importance is placed on using today's traffic signal technology, ITS, Automated Traffic Signal Performance Metrics, and other data to predict traffic conditions and keep traffic moving efficiently. If you are a self-motivated individual who likes to take on new challenges, consider joining our team!
Proud to Offer
Perform work with a greater purpose
Opportunities for growth and development within Maricopa County
Exceptional work-life balance
Low-cost, high-value healthcare for you and your qualifying dependents
Enrollment in Arizona State Retirement System
Paid vacation, sick, and parental (birth/adoption) leaves
Extensive wellness program with $60 monthly medical premium discounts
Employee discounts for goods and services
Learn more at maricopa.gov/5284/Why-Work-Here
MCDOT Requires
Bachelor's degree in Civil Engineering or a related field
Two years of professional pre-registration experience in Civil, Traffic, or Transportation Engineering, traffic signal operations, timing, maintenance, or ITS
Certification as an Engineer-in-Training may substitute for the aforementioned experience
An equivalent combination of post-secondary education and/or job-related experience may substitute for the required experience on a year-for-year basis
Arizona driver's license upon hire
Job Contributions
The tasks listed are a representation and not an all-inclusive list of essential job tasks for this position.
Develop and implement traffic signal timing plans and coordination plans
Monitor and analyze arterial traffic flows using ITS tools, social media, modeling using Synchro and other traffic signal timing software, automated traffic signal performance metrics, and travel time mapping tools
Investigate and analyze traffic signal and traffic congestion concerns, make logical recommendations based on findings, and execute solutions
Identify trends related to traffic congestion and traffic signal performance using spreadsheets and other data analytics tools
Operate the Adaptive Signal Control Technology systems and implements advanced signal timing strategies
Please click here for more information and to apply for this opportunity.