ITS Arizona's Annual internship program provides on-the-job experience and mentoring for a student aspiring to be a professional in the transportation and technology disciplines. Please join us in congratulating Griffin Bodow for winning the 2021 ITS Arizona Internship!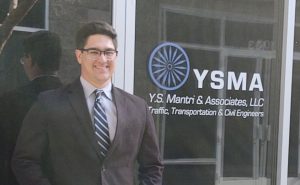 Griffin is spending his summer with Y.S. Mantri & Associates, LLC in Tempe, AZ. He is a native Arizonan and attends Brandeis University in Waltham, Massachusetts where he is pursuing a major in Physics and a minor in Business while playing for the varsity baseball team. He also is a part-time student at Tufts University School of Engineering in nearby Medford. After graduating from Brandeis in the spring of 2023, Griffin plans to pursue a Master's in Civil Engineering.
Griffin is enjoying his time with YSMA this summer where he is being exposed to fiber optic communications and the inner workings of traffic signal cabinets, sharpening his CAD drafting skills, and learning the basics of engineering design.
He feels that this opportunity has reinforced his desire to be a civil engineer and is grateful to ITS Arizona for sponsoring his internship at YSMA.